Jake got home last week from the Holy Land and we decided that it was time we both see our first game of the year. The Hagerstown Suns, the Low-A South Atlantic League affiliate of the Washington Nationals, are about an hour north of us. Conveniently enough, the Lexington Legends, the affiliate of the Kansas City Royals, were coming to Hagerstown for the weekend. What's so special about the Lexington Legends, you might wonder? Well, besides the fact that this
is the hat they wear, their roster is loaded with absurdly young talent that we couldn't wait to see. Specifically, the 7.5 million dollar man known as Bubba Starling, the Royals fifth overall pick from 2011, as well as the 17 year old son of former All-Star outfielder Raul Mondesi, Adalberto Mondesi. (Adalberto is his middle name and he'd rather go by his first name which is…Raul. His brother's name is Raul too. Seriously.)  So how was our experience ?
Driving through rural Maryland was a confusing journey filled with double-takes and questionable bumper ornaments. For example, we actually saw one of these:
We also passed a gated community with a not-so-subtly recognizable logo:
*sigh* Anyway, eventually we reached the Town of Hagers. Often referred to as "Heggerstown" by the locals, Hagerstown is the sixth largest city in Maryland (?!?!?!). We arrived to Municipal Stadium around 4:30, a little over two and a half hours before game time.
Here's an overhead shot of Municipal Stadium:
There was rain in the forecast all day and the skies were looking ever so apocalyptic. After attempting to trespass through a loose front gate to get a closer look at Lexington's BP session, we went around to find a wide open fence down the left field line. If there's one thing we learned, it's that Low-A baseball stadium security is 20 grade and we love it. We not-so-cautiously watched Bubba Starling warm up with speedy outfield prospect Terrance Gore. Terrance Gore looks like a 14 year old. HE IS SERIOUSLY SO SMALL. Eventually, the Legends made their way to the cage. After watching a few unimpressive rounds from some of the non-prospects, Bubba stepped in. Lauded for his raw power, Bubba was quick to show off his raw skillz. After crushing some line drives to the opposite field, Bubba launched one to left-center.
See where the scoreboard is, right below the video screen? Yeah. Bubba hit it over that. Probably about 420+. As soon as we realized it had left the entire stadium, we sprinted back behind the park in search of the ball. Reckless jay-walking be damned; we got the ball: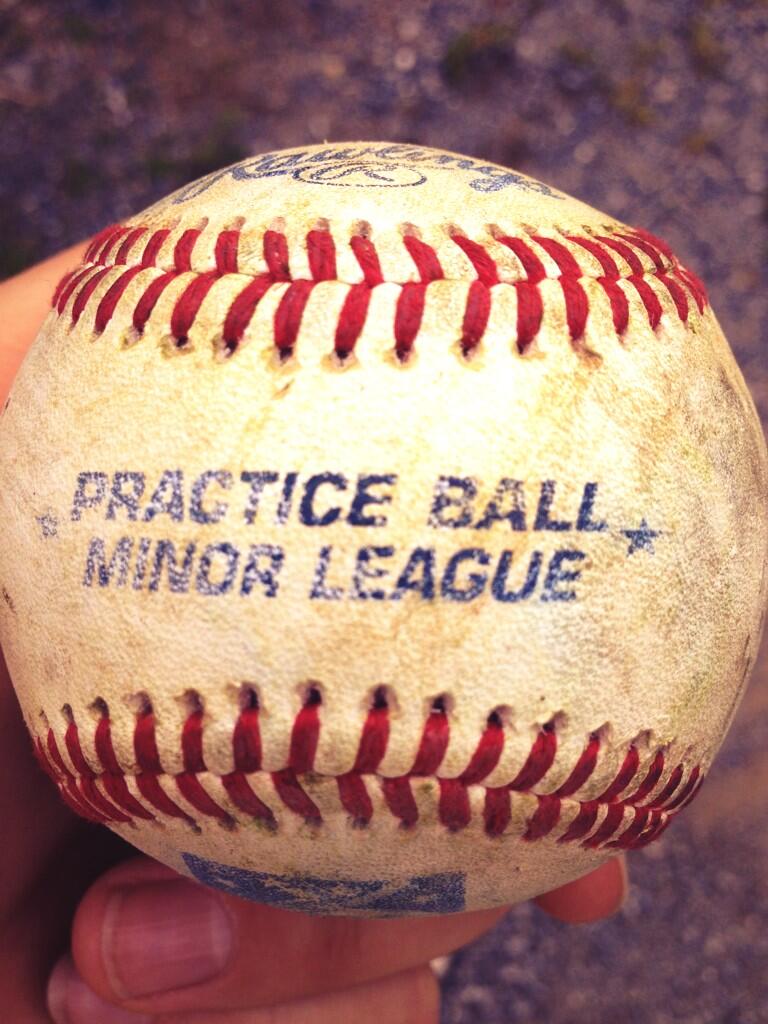 Bubba finished his rounds, and we realized pretty quickly that no one else was gonna hit it outta the stadium. So we decided to explore. The backsides of 80% of the Municipal Stadium fences are…rather exposed. And we're dumb teenagers. So this happened:
Here's the view:
After dinner, we were finally (legally) admitted into the stadium about 45 minutes before game time. And oh by the way, our tickets were first row behind home plate. They were $12 each. <3 Low-A baseball. The lineups:
I'm sorry, MONDESI IS DH'ING ? Ugh. We were looking forward to seeing his shortstop instincts and wizardry, but that'll have to come another time. Also, some awesome names. Khayyan Norfork is a CFB favorite, and Will Piwnica-Worms was a pleasant surprise.
Anyway, there was Bubba again, signing some based ballz and other fan stuff.
We got a ball signed, and told him that we chased down the BP home run he hit outta the stadium. Bubba: "Oh, were you two the ones standing way over there like two hours ago?" Yup. That was us. A bit later, there was Adalberto. Here's Jake missing getting a signature by about 3 seconds:
SADNESS
His afro is spectacular in person. It was at this point when we noticed an unfortunate looking building in the distance. We are 98% sure that this was the factory where they found Abu Nazir.
Scary stuff. So the game went on, without rain until about the 5th inning, but play was never stopped. Instead of a boring game recap, here are some of our most important observations from the night:
The majority of the "fans" in attendance were in the Yuengling Beer Garden.
There was an extremely vocal African-American man on the Suns event staff (who we later became good friends with) who sounded an awful lot like the dude at the beginning of that one Missy Elliott song. YEAH YOU KNOW THE ONE. "HERE WE GO NOW. LET'S GO NOW". It was amazing.
There were very few actual baseball highlights during this game. But from what I can remember, Terrance Gore lead off with a bunt for a hit and then stole second base on the next pitch. A few pitches later, he was thrown out trying to steal third. Bubba crushed a double to center field late in the game that had that super cliche "different sound" off the bat. He was unimpressive in his other three at bats, though. Suns second baseman/2012 second round pick Tony Renda made two very nice diving plays to both his left and his right to rob a couple Legends of base hits.
There were several scouts from several major league teams in attendance, but we didn't want to bother them. We had more important things to do, like Bernie-ing with the Suns mascot, Woolie.
The Hagerstown Suns event staff was significantly more interesting than the Hagerstown Suns. After getting a ball signed by Renda, we proceeded to ask the majority of the event staff to sign the ball too. We then engaged them in a both colorful and honest conversation for way way way way too long. Thanks again to (I hope I remember all your names): Allison, Rachel, Brooke, Becky, Andrew, Yvette and Hannah (and Larry of course) for tolerating us for longer than you should have.
On the drive home, Jake became the first person in the history of the world to buy an apple at a 7-11. (Note From Jake: It was a particularly juicy apple)
The end.
#CFB