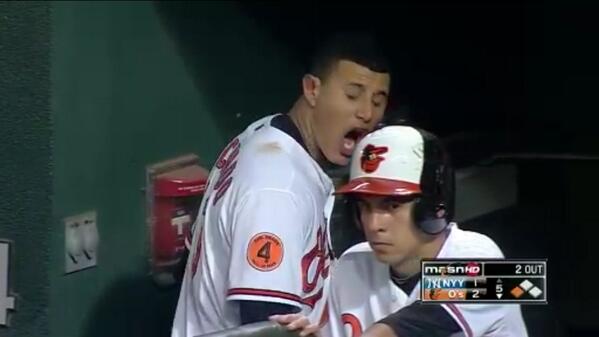 Click here to see our other 2015 team previews!
RF: Allied Hand Drone The Pasta
3B: Mango Manchalupa
CF: A Damage Owns
1B: Christ Avis
LF: Steep Hears
SS: Jade Jade Darty
C: My Tweeters
DH: Delve n' Yawn
2B: Jonny Thins Coped
SP: Grizzled Ill Man
SP: Way Ancient
SP: Budding Horse
SP: Mingle Gun Soles
SP: Cave Ink Houseman
Off-season Haiku
Lost Cruz, Markakis,
Got Travis Snider. Yay? Eh.
Duquette wants to leave?!?
Farthest Home Run of 2014
Nelson Cruz off Todd Redmond – 448 feet

It's one thing to give up a grand slam when you're up by three runs. It's another thing to give up a grand slam when you're up by three runs and your left fielder merely has to pivot to know how absurdly far over his head the grand slam is going. I'm dumbfounded by the Jays fan in the Brett Lawrie jersey throwing his hands up at :06. I can only assume Nelson Cruz was on his fantasy team. Otherwise, I'd look a little more upset if I were him.
Shortest Home Run of 2014
Chris Davis off Erik Bedard – 319 feet

This is without a doubt one of the worst home runs I've ever seen. Even Chris Davis looked like he regretted swinging as soon as he made contact. I'm all for instant replay and getting calls right, but man, replay-reviewed/confirmed home runs are still super weird.
Best Names in the Farm System
RHP Chaz Roe
OF Matt Tuiasosopo (!!!)
C Rossmel Perez
SS Sharlon Schoop
SS Sammie Starr
SS Garabez Rosa
C Steel Russell
C Wynston Sawyer
RHP Nik Nowottnick
RHP Janser Severino
C Chance Sisco
1B Creede Simpson
2B Ronarsy Ledesma
OF Oswill Lartiguez
LHP Augey Bill
RHP Nigel Nootbaar
1B Federico Castagnini
1B Logan Uxa
1B Randolph Gassaway
OF Tad Gold
OF Jamill Moqeute
RHP Virgilio Encarnacion
RHP Barry Jhonson
RHP Yeizer Marrugo
RHP Julin Jimenez
RHP Leybi Martinez
3B Robertico Medina
1B Nicanor Alvarado
OF Rochendrick Alexander
OF Rachid Engelhardt
RHP Brailyn Duran
RHP Lu Franc-Cito LeFranc
RHP Neomar Magallanes
LHP Johalis Pacheco
RHP Ofelky Peralta
RHP Jhon Peluffo
C Phildrick Llewellyn
3B Yeridolfo Lizardo
OF Geremias Gil
RHP Wendell Floranus
RHP Keegan Ghidotti
RHP Caleb Kellogg
OF Gerrion Grim
OF Ademar Rifaela
Three Bold Predictions
Ubaldo Jimenez continues to prove that the enormous contract the Orioles gave him last year was a disaster. Half-way through the year the O's decide that he is more valuable to the organization as an energy-generating windmill and place him in the middle of a field somewhere in rural Maryland.
In a final heroic act of martyrdom, Dan Duquette trades himself to the Blue Jays for Josh Donaldson, Jose Bautista, Daniel Norris, and 24 kilograms of poutine.
After two consecutive seasons in which he hurt two different legs, Manny Machado injures his third one.