This past Tuesday, Jake and I attended our first major league baseball game of the 2013 season. We watched the Arizona Diamondbacks lose to the Washington Natitudes 7-5 after nine innings of surprisingly mediocre baseball.
Boring game recaps be damned; here are the nine things we learned from this night of based ballz.
1. Wade Miley Is Almost Definitely Related To Miley Cyrus
During batting practice, we were kindly heckling some Diamondbacks players in right field as they shagged fly balls and probably talked about dirty things. At one point, Ian Kennedy and Wade Miley simultaneously drifted back for a fly ball. Kennedy grabbed it, but it was a near collision. After criticizing for their lack of communication, we finally had Wade's attention. We had to ask.
"WADE ! ARE YOU RELATED TO MILEY ?!"
"What ?"
"You know…Miley…"
"Oh yeah…she's my sister."
Case closed.
2. Trevor Cahill Is Large
When the D-backs starter for the night emerged from the dugout, we were surprised by the sheer size of him. He's listed at 6″4 220 lbs but he looked to be the biggest player on the team. Just a big dude.
3. There Is No Minimum Height To Be On the Washington Nationals Grounds Crew
We were sure this was Jose Altuve just doing some adorable charity work, but it seems to just be some lucky kid tasked with carrying a hose around. Sidenote: The Fox Sports West reporter at the bottom of the picture looked remarkably unhappy for the entire game.
4. Someone Get This Kid Some Bigger Pants
It's routine to see young kids go out to each position to meet the Nationals at the start of every game. But this kid…well…I just feel bad. Questionable color scheme as well.
5. Ian Desmond Cares Not For Your Facial Hair Judgments
but why
6. Fork Balloting Is The Way To Go
Gotta be resourceful. We weren't gonna pass up the opportunity to vote Pedro Florimon and Nolan Reimold into the All-Star Game, and if it meant we had to use forks, we had zero reservations doing so.
7. Don't Run On Gerardo Parra
Just go watch this play. Sitting behind the third base dugout, we had a sick view of a sick throw. One of the best defensive outfielders in baseball.

8. The Spelling of Goldschmidt Is Up For Interpretation
We noticed this fine gentleman sitting a couple rows in front of us and oh my god his jersey is spelled wrong how did that happen ?! It's funny because this isn't the first time we've seen this. After a PhiLOLlies-Nats game last season, we spotted this jersey outside the stadium.
Yup. That definitely says "Paelbon."
9. This Is The Best Jersey We Will See For A Long Time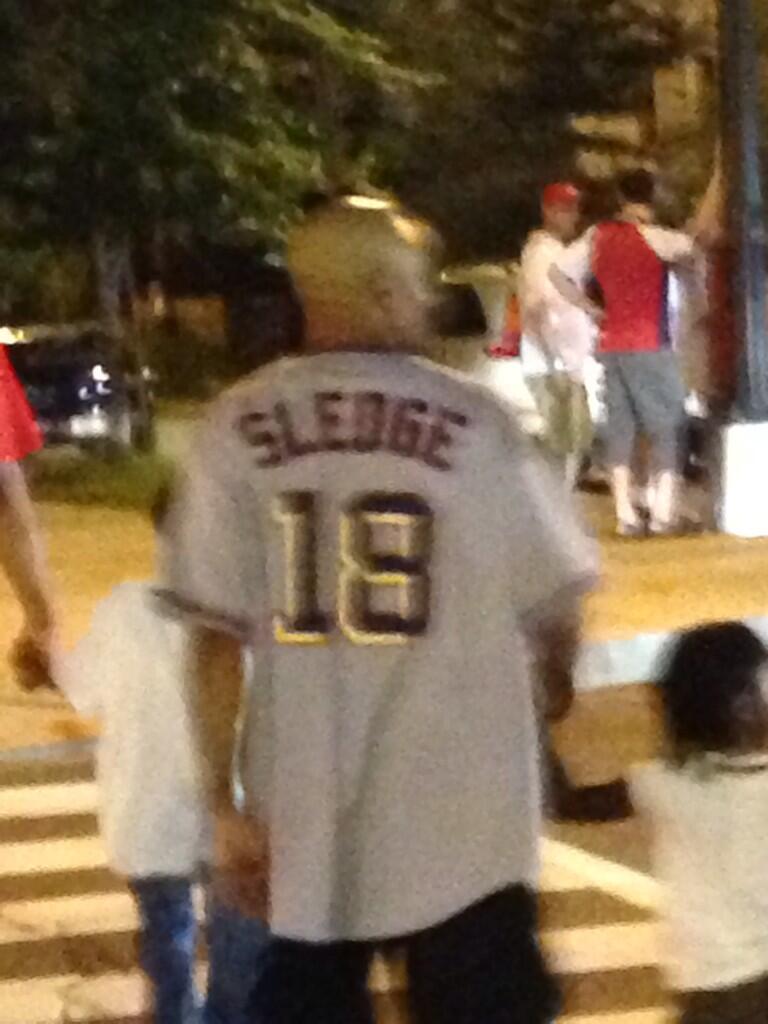 What isn't seen, is the rest of his family. They were all wearing matching Termel Sledge jerseys. Simply amazing.
More games to come.
#CFB